NOTICE:
We've moved!
Please point your browser to: www.cyberspokes.com
*Don't forget to update your favorites & links!


For the latest 2006 dates
call "The Bar King Spiders Hotline" at 716-OK-BITCH
or go to
www.wnybarkingspiders.com
*See Gary from the Spiders at any of these gigs and get your Cyberspokes Helmet Sticker for only a buck. Support "Helmet Stickers for Hunger"!

Buffalo Music Award Winners

"TOP ROCK BAND"
and
Winners of Hard Tales Magazine People's Choice Award
#1 Biker Band 2005
Playing rock'in tunes by Allman Brothers, Black Crows, Puddle of Mud, Ted Nugent, Tragically Hip, Black Sabbath, Lynyrd Skynrd, Molly Hatchet, AC/DC, Judas Priest, and much much more !!!
The Bar King Spiders have been playing the local Buffalo music scene with their high decibel Southern and Classic Rock for the past twelve years.
Pleasing crowds in Buffalo to Sturgis and Myrtle Beach to Daytona Beach!
For for info & bookings call 716-OK-BITCH.


Hey, remember these guys?
Call "The Bar King Spiders Hotline at 716-OK-BITCH
for the latest 2005 dates!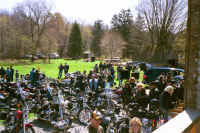 "Cyberspokes Food Bank Run at Spider Grove"
Check out the Spiders at the Cyberspokes Annual Food Bank Motorcycle Run, Chopper Show & Benefit Party the last Saturday every April.
Live at Daytona Bike Week & Biketoberfest !!
at
The No Name Saloon
2001 S. Ridgewood Ave. (US1)
Edgewater, Florida 32141
386-428-9229 or 716-OK-BITCH