NOTICE:
We've moved!
Please point your browser to: www.cyberspokes.com
*Don't forget to update your favorites & links!
*Helmet Stickers for Hunger*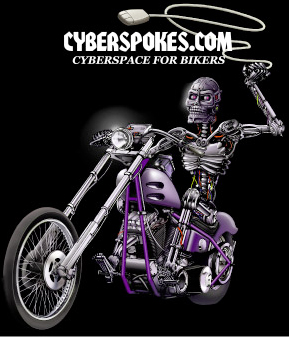 Helmet Stickers are here!
100% of the proceeds go to The Food Bank of Western New York!
Help the hungry AND win cool prizes!
Please congratulate our winners for Round One of "Helmet Stickers for Hunger".
These winners were announced Monday Dec. 12th 2005,
the Monday after The Hog Farm X-Mas Swapmeet on Sat. December 10th.

Jason McCudden of Barnard Street in Buffalo, NY was the luck winner of the
$150 custom helmet airbrushing job
Russ Raymando of Barberry Lane in Williamsville, NY won the wild looking
machine-stitched beer-case beer hat from BeerHatsOnline.com
For our first round $103 was raised for the Food Bank!
A huge THANK YOU goes out to Tom & Donna from To-Do of W.N.Y., Inc. for their $50 donation and Chuck from V-Twin Cycles, Inc. for his $25 donation. Without the help from these fine business, this would not have been a success.
For Round Two we will be giving away a One Year Subscription to Hard Tales Magazine and some other cool stuff to be announced. Get your entries in now!
Sure, we usually do hand out our stickers for FREE at events BUT you can't win stuff or help the hungry that way!
Each month, 91,000 hungry Western New Yorkers turn to soup kitchens, food pantries, and other emergency food providers -- 40% are children! The Food Bank of Western New York acts as a bridge between available food sources and the hungry. The Food Bank of WNY is a nonprofit clearinghouse for food solicited from the private sector.
The Food Bank distributes product to approximately 500 charitable programs that feed the needy in Cattaraugus, Chautauqua, Erie and Niagara Counties. These include food pantries, soup kitchens, emergency shelters, day care centers, senior citizen programs, and residential and day programs for the handicapped, youth and those undergoing drug and alcohol rehabilitation.

Buy a Cyberspokes sticker for only $1 ...



and get a Hard Tales sticker for FREE!



And you will be entered into our drawing to
WIN COOL PRIZES !!!
Unfortunately the pictures on this page do not do the high quality graphics on the stickers justice.
Trust me, they are cool!
These stickers are printed on the highest quality weather/fade-resistant durable vinyl.
They will look great on your helmet, car window, truck, trailer, toolbox, gun cabinet, or where ever!
Purchase a sticker online via credit card or Paypal below.
Online customers will be entered into our drawing to win cool prizes!



Credit card or Paypal orders require an additional $1 shipping & processing fee.
"It is much safer to transmit your credit card number over the Internet than to give it to a waiter at a restaurant or read it aloud over a cordless phone."
- David Medine, Federal Trade Commission from a Washington Post article.
Pay fast, easy and secure with Visa or Mastercard (below).
or
Send $1 cash, check, or money order
AND a self-addressed stamped envelope to:
"Helmet Stickers for Hunger"
4994 Newton Road
Hamburg, NY 14075
*Make checks payable to The Food Bank of WNY


You do not have to be present to win.
Want to win a Mini-Chopper?
Check out "Choppers for Charity".
Want to win a full size Chopper?
Check out "Charity Bike Build 2006".
*Cyberspokes Helmet/Window Stickers are also available at:

Wyld Chyld Cycle Supply
158 Lake Shore Drive East (Rt. 5)
(Just east of Rt.60 - Main Street)
Dunkirk, NY 14048
716-366-5374
V-Twin Cycles, Inc.
1075 Sheridan Drive
Tonawanda, N.Y. 14150
716-877-7139
*Helmet Stickers Created by:
To-Do of W.N.Y., Inc.
-There is only ONE place to look for all your Helmet Sticker needs! Whether your looking for the latest and greatest in preprinted stickers, or a custom sticker to promote your event or business. Over 1400 & growing! Also leathers, chaps, vests, gloves, flags, and more. Distributors for Kerin Marketing. They have produced custom stickers for Cyberspokes.com, Hard Tales Magazine, Don George's Sports Center, V-Twin Cycles, The Bell Boy From Hell, and others. Look for them at events and contact them about your events or about becoming a dealer. Give Tom & Donna Seward a call at 716-625-8721.
*Helmet Airbrushing
*Beer Hat by:
BeerHatsOnline.com
See the hats that everyone is talking about! Beer-Hats are made from actual beer cases! They are machine stitched, durable, water resistant, adjustable to fit any size head and best of all, a great conversation piece!! Beer-Hats are great for any cowboy or cowgirl who loves their drinking or for someone who just needs a great party hat