NOTICE:
We've moved!
Please point your browser to: www.cyberspokes.com
*Don't forget to update your favorites & links!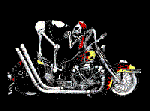 721 Mineral Springs Road
West Seneca, NY 14224

Phone 716-822-3227
Fax 716-822-0479
Orders Only Line 800-822-1903
Hours of operation:
Mon., Tues., Thurs., Fri. 10am-7pm
Sat. 10am-5pm
The-Hog-Farm.com
- Yep, the folks here at Cyberspokes.com have been more than happy to host the The Hog Farm page on our site until Grott & Ruthie got their own site, but now it's time to check out the "Real Deal". Go to The-Hog-Farm.com It kicks ass!

Products & Services
-The Hog Farm (THF) has it ALL !!
American Motorcycle Sales & Service Specialists:
Promote, Buy, Sell, Trade, Build, Create, Machine, Antique, Stock, and Custom. Also a huge selection of Riding Attire and Accessories.

Bikes
- Do you have to put a little red flag on your bike so you can tell it from the rest of the sea of Stock Harleys in the parking lot? You can load it with "bolt-on goodies" until you're working on your third mortgage and you still won't have a radical custom like "The Hog Farm Motorcycle". High Quality American V-Twin "Custom-made" Motorcycles !!

Events:
- Here's where you'll find the fun stuff... Hog Farm Sponsored Swap Meets, Bike Shows, Dirt Drags, Weekend Campouts, Blues Summer-fests and more.

Private Campgrounds Available
- The "Hogarosa" Private Campgrounds are available for charity events, weddings, company picnics and private parties.

News
- Corporate Harley Davidson LOST the "hog" trademark! The Hog Farm won the rights to the word "hog" in their business name on March of 1997. In January of 1999, The Hog Farm won the fight to return the word "hog" back to their rightful Hog shop owners!

The Hog Farm carries:
CYCLE SHACK - SIFTON - GARY BANG - MUSTANG - CORBIN
S & S - RUSSELL - RIVERA - CHROME SPECIALTIES - CRANE
KURYAKYN - ARLEN NESS - DRAG SPECIALTIES - MAX
CUSTOM CHROME and MANY MORE !!